Erie Land Lighthouse
The Erie Lighthouse, or the original Presque Isle Light, was built in 1818 and is the first commissioned lighthouse on the Great Lakes.
The History of the Erie Land Lighthouse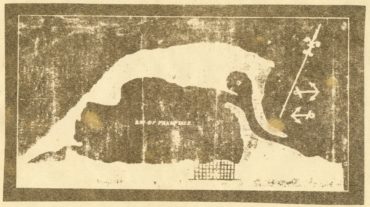 The First Light
The Erie Land Lighthouse, as it is now commonly referred to as, was the first commissioned lighthouse along the Great Lakes.
The light was positioned on a cliff overlooking the entrance to Presque Isle Bay, which is now the foot of Lighthouse Street in Erie, PA. The original structure was a 20-foot-high square wooden tower with an enclosed lantern room. The lamp that would light the way for ships was a nine-lamp array that was fueled by whale oil.
The lighthouse's location was strategically chosen at the entrance of what was then an 's' shaped entrance to the bay and the port of Erie. Presque Isle is a dynamic landmass that has changed significantly over time. In the early 1800s, submerged sandbars had made entering the bay nearly impassable. A proposal to engineer a uniform channel depth was made to Congress around the same time at funds were secured to construction the Land Lighthouse.
This lighthouse aided travelers for nearly 50 years before the structure began to fail. Over time, the lighthouse started to lean. Metal bands were placed around the light to attempt to stabilize it, but these efforts for unsuccessful and it was clear the tower needed to be replaced.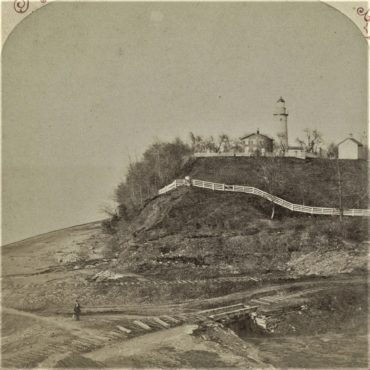 Of Brick and Stone
In 1857 a new tower was constructed. The new tower was 56 feet high, round, and constructed of "Cream City Bricks" from Milwaukee with a spiral cast iron staircase and a 16 ft lantern room.

The soft ground and poor foundation proved to be a problem and 10 years later, in 1867, the current lighthouse was constructed 200 feet east of the original site. To ensure this light's longevity, it was constructed with a 20-foot foundation of oak timbers, crushed limestone, and Portland cement to support the round brick tower with Berea sandstone exterior. A third order Fresnel lens was installed that had a focal plane of 128 above the lake and could be seen 15 miles out into the lake.
---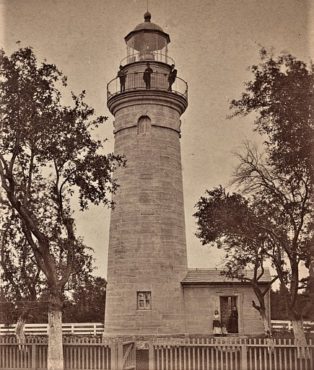 A Light Extinguished
The lighthouse operated until 1880 when, based on the recommendation of the inspector of the Tenth Lighthouse District, it was discontinued. The property then fell into private hands for a short time until, after public protest, Congress appropriated $7,000 for the reestablishment of the lighthouse in 1884. The light remained active until 1899 when it was finally closed. The lens was removed a few years later and is now at the Marblehead Lighthouse in Sandusky, OH.
Today, the Erie Land Lighthouse has been restored thanks to the efforts of the City of Erie and the Erie Port Authority. While no longer an active aid to navigation, the site provides spectacular views of Lake Erie and Presque Isle and is open to visitors seasonally.
---
Land Lighthouse Weather Cam with Jet24
Hours
Off Season
Closed until April 2023
Directions
Located at the foot of Lighthouse St, in Erie, PA
2 Lighthouse St., Erie, PA 16507
Parking is available on-site
Buses and large RVs should consult staff for parking instructions
TOURS
Erie Land Lighthouse Tower Climb
$6, Free for Members
Includes self-guided access to grounds
Available every 20-minutes, no reservation required
Must be 44" tall to climb
Combination Tower Climb
$12, Free for Members
Covers both Presque Isle and Erie Land Lighthouse
Tickets are redeemable any day during the season
Must check-in and show ticket to schedule climb at each site
Includes grounds at Land, and house and grounds at Presque Isle
Visits to both sites must be completed within the season
Must be 44" tall to climb
Self-Guided Three Lights Audio Tour
$5 for each site, $10 for all three
Self-paced, exterior audio tour of each lighthouse
Does not include tower access
Required use of personal device to access tour
*Coming Soon
Group Visits
Group rate
Group visit rates are available upon request (a group is a minimum of 8 people).
Group bookings must be made at least two weeks in advance
Please call Richard Walter at (814) 833-3604 for more information and to schedule your visit